Antonio goes home with a new heart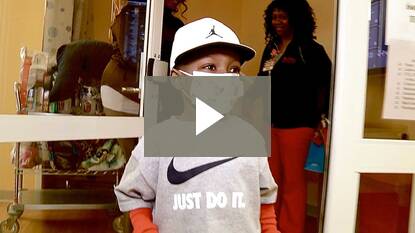 Antonio Dawson was with us at the Herma Heart Institute for 233 days, more than seven months, while he waited for a heart transplant. That's a long time for anyone, but just imagine how that must seem to a 4-year-old! It was an emotional day for all of us when Antonio finally got to go home, with everyone from doctors, nurses, fellow patient families, administration staff, parking valets – you name it – wanting to make sure they got a chance to say farewell. Read more on our blog.
Become a patient or contact us
Share your story with us
Tell your Herma Heart Institute story and share encouragement with other families!
Nationally recognized
Ranked #5 in the nation
U.S. News & World Report has once again ranked the Herma Heart Institute at Children's Hospital of Wisconsin among the top ten in the nation for pediatric cardiology and heart surgery. This ranking reflects the excellent outcomes and care we provide for even the most complex heart conditions. Families travel from across the country, and even around the world, to receive care from our specialists who are experienced in treating congenital heart disease from before birth and into adulthood.