Milwaukee breastfeeding support
Lactation management service
Children's Hospital of Wisconsin in Milwaukee has certified lactation consultants who offer support to breastfeeding mothers and their babies and help provide a positive and successful breastfeeding experience. Our staff also helps mothers who express their milk (remove milk from their breasts).
Conditions we address
This program provides support to:
Mothers and hospitalized infants who experience lactation or breastfeeding difficulties, such as:

Engorgement
Medication use and safety
Sore nipples
Low milk supply

Families and health care team members when infants have feeding challenges, including:

Jaundice
Prematurity
Heart defects
Respiratory problems
Down syndrome
Cleft lip and palate
Neurological problems
Surgery
Allergy
Multiple births (twins, triplets)
Birth defects

Mothers and babies who are separated due to medical, work or educational needs.
Mothers who need help with breast milk pumping, pump usage, management of breast milk collection and storage, and obtaining breast pumps for home use.
Our services
This program provides the following services:
Individual consultations
The Lactation Management Service provides individual consultations Monday through Friday, and rotating Saturdays and Sundays.
Children's Hospital lactation consultants talk with mothers by phone, schedule a visit at the bedside and meet with families during a prenatal appointment if families are being seen through the Fetal Concerns Center. A physician or nurse can order a prenatal, inpatient and outpatient consultation, or families can call (414) 266-1757 to leave a message for a lactation consultant. A consultant will automatically be paged when a message is left.
Pump rooms
The Lactation Management Service has double electric breast pumps available throughout the hospital for mothers to use. Pump rooms are available in the Neonatal Intensive Care Unit (NICU) and most inpatient units. The Children's Hospital of Wisconsin Clinics Building has a breastfeeding room, which is located behind the information desk, that is available to families and staff.
Milk Kitchen
The milk kitchen is for the management, preparation and distribution of human milk.
Watch this behind-the-scenes tour of our Milk Kitchen to learn how this unique resource is helping breastfeeding mothers and babies in our NICU.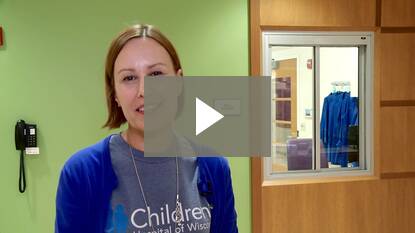 About the staff
Our team includes many lactation consultants, including four with IBCLC (international board certified lactation consultant) certification, who are also registered nurses. They have extensive training, education and experience in lactation. They offer a wealth of experience and knowledge working with premature infants through toddlers.
In fact, our team has been awarded with the International Board of Lactation Consultant Examiners® (IBLCE®) and the International Lactation Consultant Association® (ILCA®) IBCLC Care Award for excellence in lactation care.

This award recognizes organizations that have IBCLCs on staff, provide a lactation program for breastfeeding families, and have recently completed activities that help protect, promote, and support breastfeeding.
In addition to the lactation team, certified lactation educators (CLEs) are available to help and support families.
Lactation consultants
Lori Collins, CLC
Maria Collins, CLC
Reggie Drewek, CLC
Michelle Eversdyk,CLC
Maria Haldeman, CLC
Paulette Krolikowski, CLC
Sara Peluso, CLC
Lindsey Schneider, CLC
Heather Tanner, CLC
Breastfeeding and lactation resources
Resources from Dr Jane Morton, Stanford University School of Medicine
Additional resources
Contact us
For more information or to request breastfeeding support from our lactation team at Children's Hospital of Wisconsin in Milwaukee, call:
(414) 266-1757
For more information or to request breastfeeding support from our lactation team at Children's Hospital of Wisconsin in Neenah, call:
(920) 969-7990