Project SEARCH
Project SEARCH is a business-led program designed to develop social and employment skills for adults with disabilities. This workforce initiative develops competitive, marketable, and transferable skills for employment. The program is a partnership between Children's Hospital of Wisconsin, Easter Seals Southeast Wisconsin, The Department of Vocational Rehabilitation (DVR) and area schools. The ultimate goal of Project SEARCH is employment.
The application process has begun and we encourage those interested to apply or share the application. Applications are now being accepted. Contact Allyson O'Leary with questions at (262) 953-2206 or allysono@eastersealswise.com.
Video: About Project SEARCH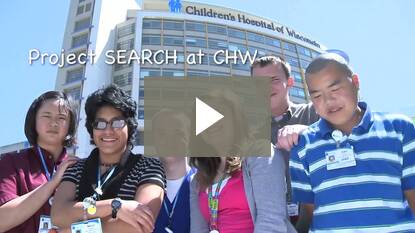 Contact us
To learn more about Project SEARCH, contact Ally O'Leary at Easter Seals Southeast Wisconsin at (262) 953-2206 or send an email.