Overview of the Ear, Nose and Throat (ENT) Clinic
The Otolaryngology Clinic, often referred to as the ENT Clinic, provides specialized medical and surgical care to children, infancy through adolescence, who have problems with their ears, noses or throats. We have more than a dozen health care providers, ensuring fast access to the best ENT care.
Staff in the ENT Clinic also screen the child's speech and language skills. Although these skills develop differently in each child, if your child is not progressing, there may be a physical reason. If you are concerned, we are here to evaluate and treat your child. In addition, we work closely with the Master's Speech and Hearing Center, which is located near the ENT Clinic at Children's Hospital.
Video: Watch Dr. Sulman and Dr. Chun discuss the Ear, Nose and Throat Clinic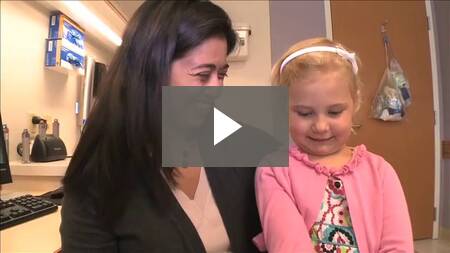 The ENT Clinic offers a variety of services including:
Universal Infant Hearing Screening Program. Every infant born in the Froedtert Birth Center at Children's Hospital has his or her hearing evaluated to identify possible hearing loss before leaving the hospital.
Diagnostic techniques, including the use of microscopic otoscopy and videoendoscopic evaluation of the nose, nasopharynx and voice box.
We diagnose and treat the following:
Craniofacial abnormalities, including cleft palate.
Ear, nose and throat diseases, including ear infections, sinusitis, tonsillitis.
Facial and neck masses.
Facial trauma.
Hearing loss.
Speech, language and voice disorders.
Swallowing disorders.
Tracheostomy-dependent children.
Upper airway obstruction.
The Otolaryngology Department also provides inpatient services at Children's Hospital of Wisconsin to assist in diagnosing and treating children.
Emergency care:
Should your child suffer from a sudden illness, or need emergency care, physicians are available 24 hours a day. Services also are provided for children brought in through the Children's Hospital Emergency Department/Trauma Center (ED/TC). To reach the ED/TC, call (414) 266-2626.
After hours, on weekends and holidays, call (414) 805-3666 and ask for the otolaryngology resident on call.
Locations
We see patients in the following locations: