Kohl's Child Life Program and Expressive Arts Therapy Program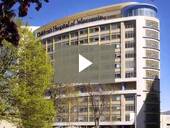 Watch our pre-admission tour video.
A child faces many new experiences while in the hospital. Some of these experiences may be very stressful. Child Life specialists help provide a supportive environment which allows children and adolescents to cope with their hospital stays. The goal of the Kohl's Child Life Program is to normalize the hospital experience for patients and their families through play, socialization, preparation and support during procedures.
Play is important. Within the hospital setting, play provides a sense of the familiar and is used to help children work through their feelings and questions about their hospital stays. Child Life specialists provide special group activities to allow for peer interaction and socialization to occur within the hospital setting. Learn more about donating toys or creating a project for Children's Hospital patients.
Preparation and procedural support also are important. Child Life specialists provide information about an upcoming surgery or procedure based upon each child's developmental level. Pictures, books and realistic medical equipment are used to help explain to a child what they will experience before, during and after their procedure. Child Life specialists also are available to provide support, distraction and relaxation techniques during the procedure itself.
Members of the Child Life staff have earned a bachelor's or master's degree in Child Life, Child Development or a related field. They have been professionally certified by the Child Life Certifying Commission.
Choose from the following list below to learn more about the Kohl's Child Life Program and Expressive Arts Therapy Program.
Expressive Arts Therapy Program
Preparing children for procedures
Relaxation during procedures
Therapeutic play
Support for the whole family
Sibling support registration form
Pre-admission tours
Explore a career in Child Life
Special group or entertainment visits

Featured Video
Watch the following video to learn about the unique ways art therapy helps patients and their families at Children's Hospital of Wisconsin: